Article by Alex Galitsky, Communications director, Armenian National Committee of America's Western region.
Source: Newsweek, February 12, 2021
Photo: An Armenian soldier sits on a wall of the 12th-13th century Orthodox Dadivank Monastery on the outskirts of Kalbajar on November 18, 2020. Karen MInasyan/AFP via GETTY IMAGES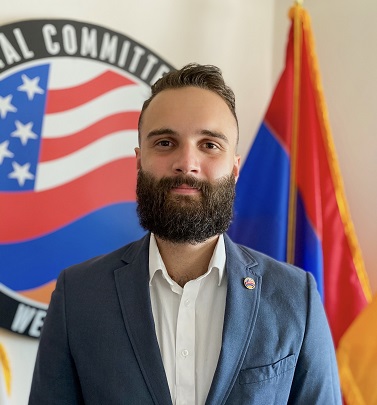 Throughout Armenia's history, countless empires have come and gone—but our traditions and culture have remained unconquerable, surviving even the horrors of genocide. As an heir of the ancient world, and a bastion of Christianity since it became the first state to adopt the religion at the turn of the fourth century, Armenia is home to rich heritage of immeasurable value, which offers us a window into the history of human civilization.
But with Armenia forced to concede swathes of its ancestral homeland after Azerbaijan invaded and occupied the Republic of Artsakh (also known as Nagorno-Karabakh)—perpetrating a litany of war crimes and forcibly displacing 100,000 people—some of the world oldest monuments to Christianity face the very real threat of destruction.
As Armenians—and Christians everywhere—now look for global leadership to preserve this living chapter of early Christian history, the United Nations has been notably absent.
The region has yet to receive a UNESCO delegation to assess the status of Armenian cultural sites following Azerbaijan's territorial conquest. Even for UNESCO this lack of access has proven intolerable.
UNESCO noted Azerbaijan had repeatedly refused to respond to its requests, a concerning signal for those facing the imminent risk of cultural genocide. When Azerbaijan did eventually respond, it accused the organization of politicizing cultural preservation and betraying the "spirit of cooperation" between UNESCO and Azerbaijan.
By cooperation, Azerbaijan refers to the hundreds of thousands of dollars it funneled to then-UNESCO chair Irina Bokova, part of a multibillion dollar money laundering operation between 2012-2014 used to buy the silence, and favor, of politicians, journalists and international institutions.
As chair, Bokova readily aided the Azerbaijani government's agenda, hosting a 2013 UNESCO event titled "Azerbaijan, Land of Tolerance" at its headquarters in Paris.
The event was held at the request of Mehriban Aliyeva—Azerbaijan's first lady turned vice president—who was named a UNESCO Goodwill Ambassador in 2004; a title she holds alongside serving as president of the Heydar Aliyev Foundation, an organization involved directly in the erasure of Armenian heritage.
The "land of tolerance" myth is one Azerbaijan's authoritarian government has regularly deployed to distract the international community from its institutionalized dehumanization of Armenians, and concerted effort to destroy Armenia's heritage.
The silence and inaction of the international community in the face of the state's shameless vilification and incitement of hate has left the region's indigenous Armenian inhabitants fearing the worst.
Armenian churches in Azerbaijan proper have been razed to the ground. In the early 2000s, Azerbaijan undertook the destruction of 28,000 Christian Armenian cultural monuments in the historically Armenian region of Nakhichevan. Both during and after the destruction, UNESCO did not so much as offer a word of condemnation.
These fears have driven the Armenians of Artsakh to resort to desperate measures to ensure the survival of their sacred heritage. At Dadivank monastery, founded by a disciple of Thaddeus the Apostle and among the oldest churches in Christendom, locals took to evacuating cross-stones, church bells and artifacts to Armenia for safety.
Some sites under Azerbaijani occupation, including the Ghazanchetsots cathedral in Shushi, have already been desecrated. Ghazachetsots had previously been shelled by Azerbaijan in what Human Rights Watch has described a war crime. Many more sites, from the world's earliest monasteries to the archaeological remains of a first century B.C. pre-Christian Armenian city, also remain at grave risk.
In addition to cultural destruction, Azerbaijan also engages in historical revisionism—claiming to be the successor of the long extinct nation of Caucasian Albania, and labeling distinctly Armenian Christian sites as Albanian to assert ownership over them.
While reputable scholars have dismissed this claim as baseless, Azerbaijan perpetuates the discredited theory to justify the appropriation and erasure of Armenian Christian heritage.
This erasure goes beyond mere rhetoric. As part of its "country of tolerance" myth-making, Azerbaijan has engaged in the "restoration" of churches left to ruin during the Soviet rule—while simultaneously erasing any trace of Armenian heritage, rebranding them Albanian sites.
In the town of Nij, a church restoration project supported by the Norwegian Humanitarian Enterprise saw Armenian-language inscriptions erased from the structure. The incident led Norway's ambassador to the region to sharply condemn Azerbaijan's cultural vandalism—clearly to no avail, as just recently a similar "restoration" project undertaken by Vice President Aliyeva's foundation was completed in Gabala.
For the Armenian people, this is all too familiar. In the wake of the Armenian genocide, Turkey sought to eradicate what little remained of the region's Armenian civilization—their memory and heritage.
UNESCO's willingness to turn a blind eye to the destruction of Armenian heritage, and lend credence to Azerbaijan's false narrative of tolerance while it propagates and incites anti-Armenian racism, is history repeating itself.
Amidst the ongoing assault on religious minorities throughout the region, countless cultural treasures—from Iraq's oldest Assyrian monastery to ancient Yazidi shrines—have been lost.
UNESCO and the world must not sit idly by while Armenian heritage is at risk of suffering the same fate.
Alex Galitsky is the communications director of the Armenian National Committee of America's Western Region, the largest Armenian American grassroots advocacy organization in the United States. His Twitter is @algalitsky.
This information in other resources: