in Russian – https://aga-tribunal.info/z_23-6-2020/
On June 23 at 19:30 EST (June 24, 2:30 in the morning of Moscow time), a webinar in Zoom was held on the subject of "Racial Injustice and Responsibility".
Organizer: Ara Araz ("Justice Armenia").
Moderator – Henry Theriault, President of the International Association of Genocide Scholars and Associate Vice President of Academic Affairs at Worcester St @Worcester State University and International Association of Genocide Scholars.
Discussants:
Jermaine McCalpin, Chair, African and African-American Studies @NJCU
Michael Rothberg, Professor of English and Comparative Literature and the 1939 Society Samuel Goetz Chair in Holocaust Studies @UCLA
Kohar Avakian, Ph.D. Candidate in American Studies at Yale University @Yale University.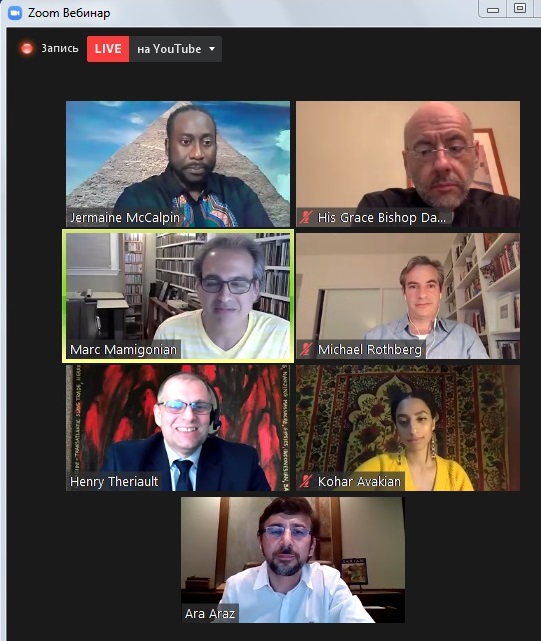 Jointly sponsored by:
AGBU Ararat
Daughters of Vartan-Sahaganoush Otyag
Justice Armenia
Knights of Vartan-Bakradouny Lodge
National Association for Armenian Studies and Research NAASR/Calouste Gulbenkian
Foundation Lecture Series on Contemporary Armenian Topics
St. Leon Armenian Church
St. Leon ACYOA Seniors
Zohrab Information Center
Opening and closing words said V. Rev. Fr Daniel Findikyan, the Primate and Bishop-Elect (since May 2018) of the Eastern Diocese of the Armenian Church.
Recommended Book List – here.
Full video (2 hours) from youtube channel of St. Leon Armenian Church (Սրբոց Ղեւոնդեանց Հայոց Եկեղեցի, New Jersey) – https://www.youtube.com/watch?v=5lYtJh4y57U
Vahan Babakhanyan from St. Petersburg connected to the webinar (from 2:30 am to 4:30 am local time). He also invited a colleague from the African community of St. Petersburg, François Tulikunkiko, who participated in the event in the Armenian community on December 9, 2019 on the International Day of Remembrance of the Victims of Genocide.
V. Babakhanyan sent his proposal to the webinar organizer on the preparation of a joint event on the same topic. This topic is constantly in the focus of attention of "Crossroad" public organization and various partner expert groups.