Azerbaijani military aggression against Nagorno-Karabakh Republic has a tragic history challenging human imagination, Maragha genocide stands out against this appalling background (Maragha is referred to as a Soviete village of Leninavan – two merged villages of Maraghi and Margushevan of the NKR Mardakert region, on the border with Mirbashir district (Terter  district), near the Azerbaijani city of Mir-Bashir (Terter). According to the last census conducted of 1989, the village had a population of 4,660.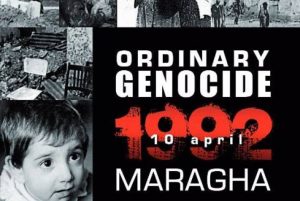 The village was shelled on 5 a.m. of  April 10, 1992 that was no more intense than previously. The shelling intensified at midday by regular Azerbaijani troops, the Ministry of Internal Affairs and the OMON went on offensive and entered Maraga.  Around two weeks later, on April 22-23, Maragha was attacked again, and the people who had returned to their native village were forced to leave the village for good. The occupation destroyed and burned most of the village, fifty-seven residents were killed, their bodies were dismembered, mutilated, desecrated and burned. 45 civilians were taken hostage, including 9 children and 29 women. Two weeks later, the village was attacked again, the population was forcibly deported, 13 civilians were taken hostage, and homes were looted and burned. The village was almost wiped off the face of the earth. "On April 10 military operations in Agdam (Mardakert district – ed.) resulted in distruction of four enemy armored personnel carriers, seizure of twenty Armenians and over a hundred casualties among Armenians" ("Chronicle of the war". Baku, "Azadlig", April 14, 1992 (in Azerbaijani. language).
30 women were killed in Maragha. The exhumation of their bodies by the NKR authorities was taped in the presence of Baroness Caroline Cox, the Deputy Speaker of the House of Lords on April 13. Video footage reveals vandalism against the victims both before and after death.
Several human rights organizations prepared a joint extensive report in 1997 on Maragha events and sent it to the United Nations Commission on Human Rights. Helsinki Human Rights Watch officially confirmed the martyrdom of dozens of civilians and took dozens of women and children hostage. However, the tragic events in Maragha have not been sufficiently covered in the foreign press and haven't been properly evaluated by the international community.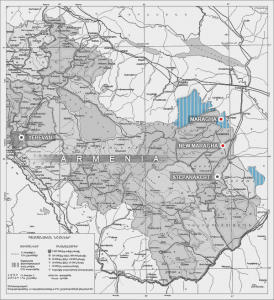 Eyewitness Evidence
Svetlana Pogosyan, born in 1939, Maraga
The attacks began in the evening of April 9, 1992. The next day the village was attacked. I hid in a hole, and in the evening I ran to the village of Madaghis. Then she returned to Maragha, where everything was burned. 53 people were brutally killed. One woman burned and I could only identify her, Varya, by her clothes. Her husband was killed not far from her, their daughter and her mother-in-law were killed, and two of their grandchildren were taken hostage. They were later exchanged.
I was looking for my daughter, and soon I found out that Karine Ter-Pogosyan with two children-2-year-old Narek and suckling Lelei were taken hostage. My younger daughter Zarina with two children-4 and 6 years old were also taken hostage. On April 17, we learned that the Red Cross  intends to exchange them – Zarine and Barseghyan Gezal and their children for the bodies of Azerbaijanis. Gezal's husband took 17 corpses for the exchange. When returning back, the car exploded on a mine. My husband, Gezal, was killed, and my daughter, everyone was injured, including children amd Zarine. Before she died, Zarine told me that Karine was alive, and so was her mother-in-law. She didn't see Kamo or leva, and neither did my nephew. Kim also was not seen. She also said that her bag with documents and jewelry is in the trench. We found the bag – no one took it, no one saw it. Zarina had two surgeries and had her leg amputated. But on April 18, she died. Though the village was heavily shelled, it was necessary to bury her in the village. We managed to bury her in the gardenwhere the first victim of Vidin was buried. In general, Maraga was first attacked on February 26, resulting in casualties. The attack repeated on April 10 and on May 10. We stayed in the hospital that day. The children and Gezal were in a cast, and we carried them in the Gorats to transport four wounded to Yerevan.
All the villages up in the mountains were abandoned. We stayed there because we were being bombarded all the time. I myself went down 15 kilometers to feed the children with some fruit. On June 9, we were in Chailu, and then the shelling started and we had to go back to the mountains. Then on June 13, we went to Stepanakert, and it took us three days to get there. We were unable to save any property, everything was looted and burned.

Valya Khachikyan, born in Maraga in 1930, taken hostage on April 20 1992
The shelling of the village began at around 6 o'clock on April 10, we are already used to it. They fired from cannons, heavy machine guns, and grad launchers. Then my husband and I were in the basement, where we lived for almost 3 years, and our son Vladimir just returned home from night duty.
Every day shells exploded, it was impossible to peep out of the shelter (basement). And so it continued until almost 16.00. We heard the sound of footsteps. I came out of the basement and saw 3 villagers running through our yard. They said that Azerbaijanis entered the village.
Then we all – me, my husband, my son and two other neighbors in our basement (Serjik Poghosyan and Maro), came out and started running to the village of Margushevan.
Zhenya Kazarian, born 1935
Taken hostage on April 10, 1992, the day of the Azerbaijani attack on the village. They entered my house and wounded me in the leg with a shot from a machine gun. They hit me with a machine gun and I fell. I was then thrown into the car, where they put the loot. My brother-in-law Yura Kazaryan and his wife Anush Kazaryan were also in the car. They were taken to the police station in Barda. A day later, I was taken to a village in the Agdam district (?), to the house of a certain Firdusi and Sara (the sons of Firdusi's aunt and brother were missing in Khojalu). I spent seven months here. I was exchanged on November 7, 1992. My son took hostages – two Azerbaijani looters from Kelbajar in Aterk, for whom they exchanged me and a fellow villager, Zhenya Barseghyan, who was brought to Aghdam seven days after me. Firdusi also had another hostage – 45 years old Danielyan Volodya (from Grozny, originally from the Martuni district). When captured, he was tortured and his ears were cut off. Danielyan Volodya was captured on a train on the way from Chernobyl to Grozny. They didn't let him get off the train. He has relatives in Martuni – Danielyan Rasul and Danielyan Smbat.
Firdusi is ready to Return Danielyan to Volodya if his relatives show up (in all probability, he wants money). Relatives Danielyan Razali (uncle) and Danielyan Smbat from Pone Kaler and arrange his release.
Zhenya Gazaryan gave evidence. 22/XII-1992 is Located at the address: Nerkin Shengavit 12-th street, sq. 14.
Lena Sarkisyan, born in 1932, was taken hostage on April 10
In the morning, I went out of the house with two bags. I went into the yard of my neighbors, where I was captured by two Azerbaijani soldiers… They took their bags, shot them, and shot them in the leg. There was a crowd approaching to loot the village from Mir-Bashir… I woke up in the police station of Barda, covered in blood…

Karine Poghosyan, born in 1962, was taken hostage on April 10
The first attacks began at the end of January, and we hid in basements and trenches. Following the attack on February 26, we left the village. On April 9, when it seemed peaceful in Maragha, we returned home. When entered the house in the evening, shooting began. We hid in a hole. In the morning they started shooting again. 12 people hid in the pit. At 3-4 p.m. in the afternoon we already saw Azerbaijanis in the village. We heard shots, screams. I heard one of the women start begging for the children to be left alone. She was hit on the head with a gun. We were forced out of the pit. Then I found out that this woman Zabel was crushed by a tank.
I went out first with my two children. My children were taken from me and I lost them. I was thrown into a zhiguli trunk and taken to Barda. There, an Azerbaijani said that his son was captured and he wanted to exchange me. On the 4th day, he found my son Narek and brought him to me. He also found Karen and brought her to Zarina. He also promised to find Lelya, my one-year-old daughter. I wrote a letter to the family and wrote the name of his son – Akhundov Hafiz to be found. I stayed secretly with them for 3 months, in different places, so that they did not know that there were Armenians in the village. On July 9, my son and I were exchanged in the village of Togh, Hadrut district. I found relatives in Stepanakert. Our village was occupied.
I saw a lot of corpses, with their heads cut off, mutilated, I saw burned houses. My father-in-law Ambartsumyan Yasha and Badalyan Asya were also taken hostage, but we were taken separately, and I didn't see them. Azerbaijanis were in full military uniforms – I don't know which organization or military unit they were from. They kept saying that they were taking revenge for Khojalu.
I haven't heard anything about my husband yet. They took him alive, but we don't know what happened next. We started looking for Lelya. Only one photograph remained of her. A year later, we learned that she was in a Ganja orphanage. Lelya was exchanged a year and 7 months later. She didn't recognize me, didn't want to come to me. She spoke Azerbaijani and behaved like an orphan. Everyone they took hostage was beaten. I was also beaten on the first day so that my whole body and head ached so much that I could not comb my hair. During the beating, Armenians were humiliated in every possible way and cursed. They said that all Armenians should be destroyed, and I replied that there are so many of us around the world that it is impossible to kill them all. Everyone who entered was beaten.
Larisa Badalyan, born in 1953, was taken hostage on April 10
On April 10, I was in a potato field. When I heard about the attack, I went to the village. The village was burning. I went to my uncle's house. My fifty-year-old uncle was dead. In the neighboring house of Anoush's centenarian grandmother, everything was covered in blood. On the floor lay the corpses of women and old men with their eyes open…
Aghajanyan Nushik, born in 1932, resident of Maraga
On this day, the Azerbaijanis killed many innocent people in Maragha – old men, women and children, including Rosa Barseghyan, 70, Zhora Stepanyan, 70, sawed Borik's throat, chopped up Edik Badalyan, Zarya with an axe, killed Parandzem, Evald, Serjik, Bagrat, Vardanush, Vanya Marutyan, his wife Raya, Alesha Hovsepyan, doused with gasoline and burned.
The tragic consequences of the Armenian genocide in Maragha affected all the families of the village without exception, some of whom were killed or taken hostage. Thus, Ayvazyan Seda – mother, Ayvazyan Leva – son, Ayvazyan Zarine – daughter – in-law, Vigen and Karen-young grandchildren were taken hostage. The Azerbaijanis agreed to exchange part of this family for captured Azerbaijani soldiers, but after the exchange, the car with the released Armenians was blown up by a mine laid by Azerbaijani sappers. As a result of the attack, Ayvazyan Zarine and seven other people were killed, including the father of the young Barseghyan Ulyana and Barseghyan Lena, who were taken hostage, along with their mother.
The acts of vandalism described above are evidence that mass and repeated violations of human rights took place in the village of Maraga that should be invoked responsibility for under numerous international conventions and treaties.
The Convention on the prevention and punishment of the crime of genocide (adopted on December 9, 1948) States:
"Genocide refers to the following acts committed with the intent to destroy, in whole or in part, a national, ethnic, racial or religious group as such:
(a) killing members of such a group;
b) causing serious bodily or mental harm to members of such a group;
(C) intentionally creating conditions of life for a group that are calculated to cause its physical destruction in whole or in part…".
The impunity of the organizers and perpetrators of the Armenian genocide in Maragha has created a favorable ground for instilling a state policy in Azerbaijan the cult of hatred towards Armenians and extensive propaganda of xenophobia, intolerance and militarism.
All the materials mentioned in the article, as well as numerous other documents, photos and video evidence are posted on the following sites:
https://karabakhrecords.info
http://sumgait.info
http://maragha.org
http://armenians.com
http://maragha.nk.am
https://armedia.am
http://www.nkr.am
Hovik Avanesov, research associate of the Center of Caucasian studies, Mesrop Mashtots University (the Republic of Artsakh, Stepanakert)