in Russian – https://aga-tribunal.info/maragha-10-4-2021/
On April 10, 2021, the Ministry of Foreign Affairs of the Republic of Artsakh issued an annual Statement in connection with the massacre of the Armenians of the Maragha village. The Statement begins with a legal assessment of the crime: "the armed forces of Azerbaijan committed Genocide of the Armenian civilian population of Maragha settlement of the Republic of Artsakh". It ends with the words: "Crimes against humanity have no statute of limitations and must be prosecuted and punished".
On this day, the public organization "Crossroad" ("Khachmeruk") and members of the Society of friends of Artsakh of the Armenian community of St. Petersburg organized an international event to commemorate and discuss the topic of Maragha and related issues.
In the first part, the discussion was conducted in Armenian and Russian, in the second – in English. The event took place online via Zoom, with each part lasting approximately 2 hours. Besides St. Petersburg more than 30 participants were from Germany, India, UK, Yerevan, Stepanakert, Rostov, Krasnodar, Anapa, Simferopol. Announcement was earlier in Facebook.
Some of the participants from St. Petersburg gathered in the village of Agalatovo, Leningrad region, where they were joined by local residents, refugees of Maragha. Before the start of the online discussion, flowers were laid at the Heroes' monument in the village.
Video (50 sec)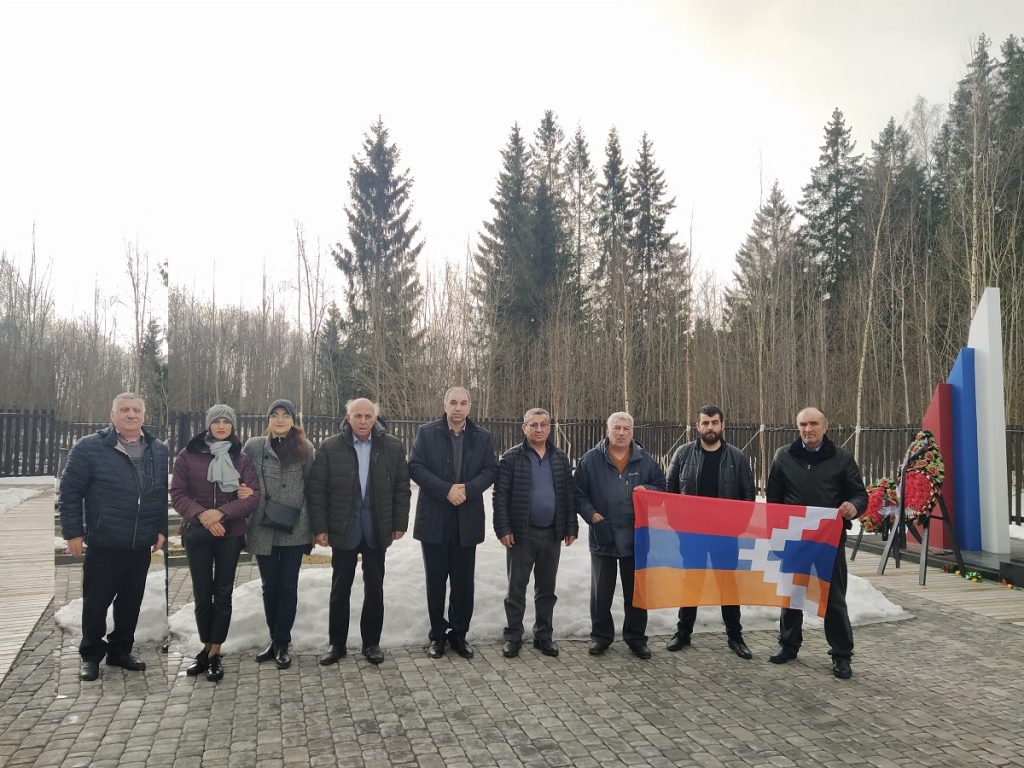 The organizers thank Mikael Grigoryan, Kamo and Alla Mnatsakanyan, as well as the Ministry of Education and Culture of the Republic of Artsakh, for their great support.
Among those invited was the chairman of the Rwandan community in Petersburg. Maragha and Rwanda, being far from each other, are "tied together" by the beginning of April – in both places the crime of genocide was at the beginning of the month (in Rwanda on April 7, but the mourning lasts 100 days there every year).
Participants of the first part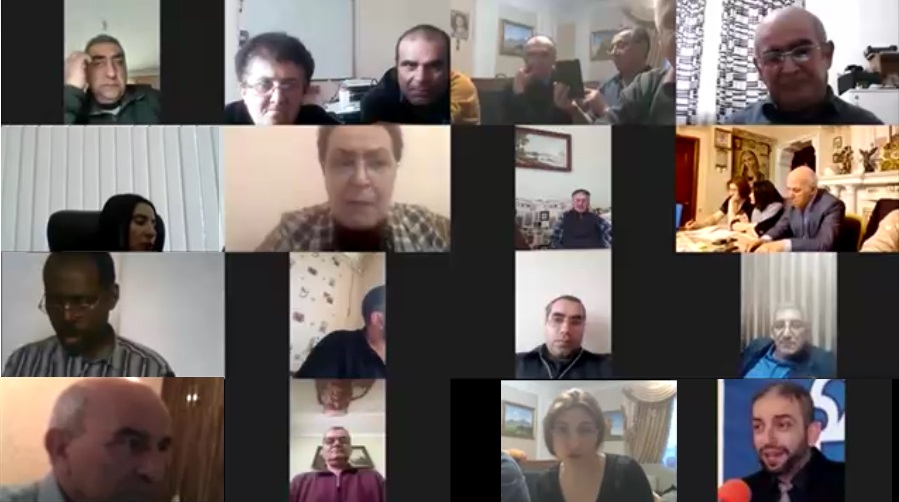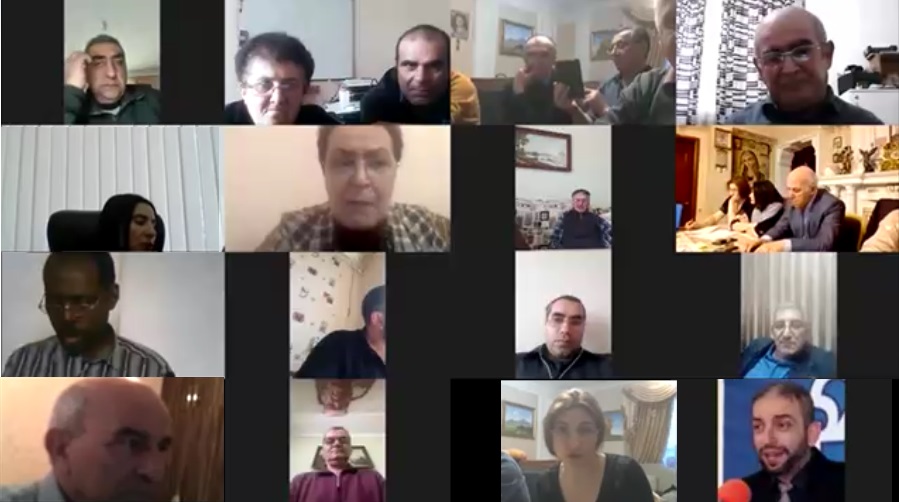 From Yerevan
Larisa Alaverdyan, the first Human Rights Defender of Armenia (Ombudsman), member of the National Assembly (2007-2012), chairwoman of the NGO "Against the Violation of Law"
Alexandr Manasyan, Ph.D. in Philosophy, professor
Grigori Ayvazyan, Ph.D. in History, chairman of the Assembly of Azerbaijani Armenians
From Stepanakert
Aram Mnatsakanyan
David Ghukasyan
refugees from Maragha (Zhanna and others)
Hovik Avanesov, Scientific researcher, Center for Caucasian Studies, Mesrop Mashtots University, member of the Public Council for Protection of Cultural Heritage "COHEP"
Saro Saryan, chairman of the public organization Union of refugees of NKR
From Sankt Petersburg and Leningrad region
Francois Xavier Tulikunkiko, chairman of the Rwandan community
Mikael Grigoryan
Eduard Mosesov, publicist
Elmira Beglaryan
Ksenia Brodatsakaya, director of the Library #10 of Kalinin region
Karo and Alla Mnatsakanyan
refugees from Maragha
Vahan Babakhanyan, public organization of sociological and political science initiatives "Crossroads" ("Khachmeruk"), member of the Coordinating council of Russian-Armenian organizations
Refugees from Maragha living in different cities of Russia
Roma ans Ruzanna Grigoryan (Krasnodar)
Stepan (Krasnodar)
Hayk Agadjanyan (Anapa)
Boris and Rita Karapetyan (Rostov-on-Don)
Participants of the second part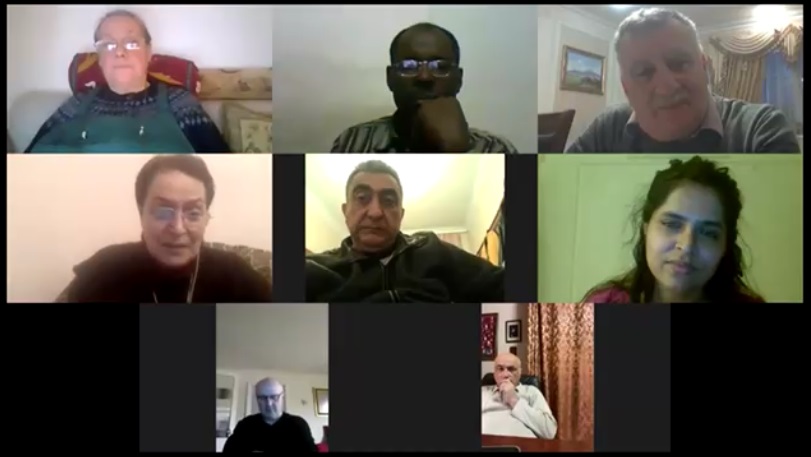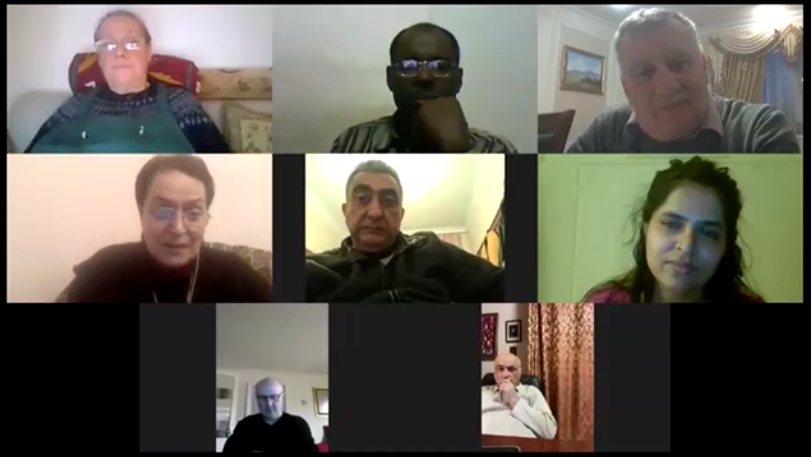 Larisa Alaverdyan (Yerevan)
Oleg Gabrielyan, Doctor of Philosophy, Professor (Sшmferopol)
Saro Saryan, chairman of the public organization Union of refugees of NKR (Stepanakert)
Francois Xavier Tulikunkiko (Sankt Petersburg)
Tessa Hofmann, a scholar of Armenian studies and sociology, PhD, research scholar at the Free University of Berlin (Germany)
Kasturi Chatterjee, Ph.D., Assistant Professor of International Studies, FLAME University, Pune (India)
Garen Arevian, blogger (UK)
Vahan Babakhanyan (Sankt Petersburg)