(հայերեն  https://aga-tribunal.info/hy/italy_6-3-2019_hy/
на русском  https://aga-tribunal.info/hy/italy_6-3-2019/)
Source – Armenpress
Member of the Chamber of Deputies of Italy, responsible for the Armenian-Italian inter-parliamentary relations, representative of the ruling Lega party, Giulio Centemero, has delivered remarks on the 1988 Armenian massacres in Sumgait
Video of his speech on March 6, 2019 – here.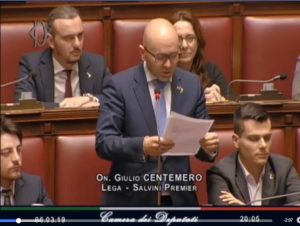 "I would like to deliver speech at this hall and remember perhaps one of the most tragic, but less known pages of the modern history – the Armenian massacres in the Azerbaijani town of Sumgait which have taken place 31 years ago. In February 1988, in response to the peaceful demonstrations of the people of Nagorno Karabakh aimed at exercising their right to self-determination, the Azerbaijani authorities organized violent pressures against the Armenian population of the Azerbaijani cities of Baku, Sumgait and Kirovabad. Everything began from Sumgait where as a result of the obvious support and permission of the Azerbaijani authorities, numerous Armenians have been killed for one reason – their ethnic affiliation. Hundreds of thousands of Armenians were forced to leave their homes and towns. During those days, one of the fundamental human rights – the right to life, has been violated", the Italian MP said.
He stated that following the Sumgait massacre the European Parliament adopted a resolution which characterized what has happened as a murder of people as such. The lawmaker emphasized that the Nagorno Karabakh conflict is not a territorial demand, but a matter of physical existence of the people living in that territory.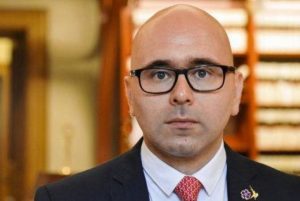 "Unfortunately, even 31 years later, we still are witnessing a real propaganda of a continuous anti-Armenian rhetoric and hatred. This was also demonstrated during the 2016 April four-day war by the use of artillery against the innocent people and brutal killings of elderly people in Nagorno Karabakh. Therefore, it is necessary to end the hatred rhetoric and educate the peoples to peace, respect to the person and freedom of religion. And therefore, it's very important for our country, which chaired the OSCE in 2018, and also as an OSCE Minsk Group member state, to continue supporting the works of the Minsk Group Co-Chairs, as the only format having a full international mandate to deal with the settlement of the NK conflict", Giulio Centemero said.