in Russian – https://aga-tribunal.info/gcr2p-15-1-2021/
The Global Centre for the Responsibility to Protect (GCR2P) saves lives by mobilizing the international community to act in situations where populations are at risk of mass atrocity crimes. Their goal is to uphold the norm of the Responsibility to Protect – known as R2P – adopted by the UN in 2005. This principle seeks to ensure that the international community never again fails to halt the mass atrocity crimes of genocide, war crimes, ethnic cleansing and crimes against humanity.
GCR2P issues a special "R2P Monitor" bimonthly bulletin. Last was published on November 15, 2020 – Issue 54. PDF report is here. Nagorno-Karabakh was mentioned among 18 "hot" regions in the world that are at risk.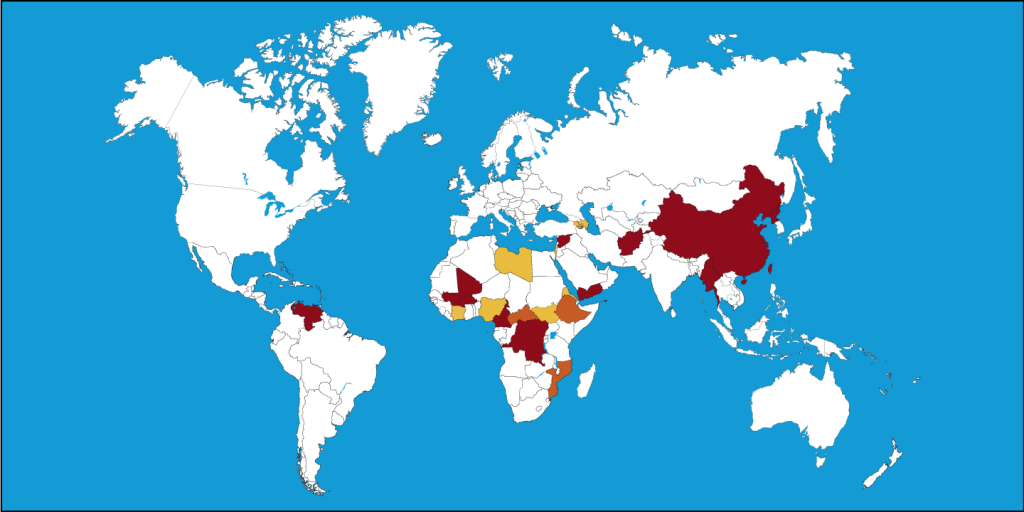 On January 15, 2021 the web site of GCR2P has updated an article about the population of Nagorno-Karabakh being at risk.
RISK LEVEL: PREVIOUSLY STUDIED
100+ civilians killed and thousands displaced between 27 September and 9 November
Potential war crimes were perpetrated during the 27 September – 9 November conflict between Armenia and Azerbaijan over the Nagorno-Karabakh region.
BACKGROUND
On 27 September armed hostilities broke out between Azerbaijan and Armenia in the breakaway region of Nagorno-Karabakh. After six weeks of intense fighting, on 9 November the leaders of Armenia and Azerbaijan signed a peace deal, effectively ending the hostilities. However, the UN High Commissioner for Human Rights, Michelle Bachelet, has warned that during the six-week war, parties to the conflict perpetrated attacks on civilian-populated areas that may amount to war crimes.
Prior to the ceasefire, forces from both sides reportedly shelled civilian areas and used illegal weapons, including cluster munitions. According to local sources in Nagorno-Karabakh, hundreds of civilians were killed or wounded, although intense fighting prevented monitors from verifying casualty figures. Tens of thousands of civilians also fled the area. Homes and essential infrastructure, including hospitals and schools, were damaged or destroyed by the fighting. The capital of Nagorno-Karabakh, Stepanakert, endured sustained shelling by Azeri forces, while various cities in neighboring areas of Azerbaijan and Armenia were also sporadically targeted. Turkey has been accused of providing direct military support to Azerbaijan and sending Syrian mercenaries to support their forces.
The Nagorno-Karabakh region is internationally recognized as part of Azerbaijan but contains a majority ethnic Armenian population that has been led by their own government since December 1991. The recent hostilities were the latest in a long history of armed clashes between Armenia and Azerbaijan for control of the region, including a war that resulted in an estimated 30,000 people killed and 1 million displaced. Despite a 1994 ceasefire agreement, sporadic clashes have continued along the border of Nagorno-Karabakh over the past 25 years. Fighting most recently took place during July 2020, resulting in significant civilian casualties.
The peace deal brokered by Russia followed three failed ceasefires negotiated by Russia, France and the United States. The deal called for an immediate cessation of hostilities and the deployment of approximately 1,900 Russian peacekeepers to Nagorno-Karabakh to patrol the border between Armenia and the enclave. The deal also called for Armenian forces to withdraw from parts of Nagorno-Karabakh and three adjacent areas where Azerbaijan seized territory during the fighting, including the second largest city in Nagorno-Karabakh.
ANALYSIS
Although the war appears to have been initiated by Azerbaijan, both sides have been accused of violating International Humanitarian Law (IHL), including failing to respect the distinction between military and civilian targets. The use of cluster munitions is banned under IHL and the use, production, transfer and stockpiling of such weapons is prohibited under the Convention on Cluster Munitions.
The Ottoman Empire perpetrated genocide against its ethnic Armenian population from 1915 to 1917, contributing to fears that the recent Turkish-backed Azeri military victory in Nagorno-Karabakh will result in reprisals against the region's Armenian population. Following the announcement of the peace deal, many Armenian families in Nagorno-Karabakh abandoned their homes and fled to Armenia.
The governments of Armenia and Azerbaijan must uphold their responsibility to protect all populations in the Nagorno-Karabakh conflict zone, regardless of ethnicity.
INTERNATIONAL RESPONSE
Russia, France and the US have previously attempted to mediate the Nagorno-Karabakh conflict in their capacity as Co-Chairs of the Minsk Group of the Organization for Security and Cooperation in Europe (OSCE). The Minsk Group was established in 1995 to facilitate a "peaceful and comprehensive settlement" of the Nagorno-Karabakh conflict but has failed to do so over the subsequent 25 years.
During the recent fighting UN Secretary-General António Guterres and High Commissioner Bachelet issued numerous statements condemning violations of IHL and calling upon parties to the conflict to cease hostilities. The European Union also urged all sides to engage in substantive negotiations with the OSCE Minsk Group Co-Chairs.
The UN Security Council held emergency meetings on the situation in Nagorno-Karabakh on 29 September and 19 October, but did not pass a resolution on the matter.
NECESSARY ACTION
All parties to the conflict should rigorously adhere to the agreed ceasefire. Political leaders in Armenia, Azerbaijan and neighboring states should avoid using inflammatory rhetoric and take active steps to prohibit ethnic incitement and hate speech in relation to the conflict in Nagorno-Karabakh.
Azeri forces must guarantee the safety of ethnic Armenians in the territory they now militarily-control and ensure that any return of refugees or internally displaced persons is undertaken in strict consultation with the UN Refugee Agency. All historic sites and artifacts, as well as places of worship, must be rigorously protected in keeping with international law.
This information in other resources