SUMMARY
The relevance of the topic is due to the fact that the falsification of events in Khojalu
continues to this day and is carried out in Azerbaijan at the state level.
Purpose of article – to put forward and justify the approach according to which school
textbooks and "scientific works" of Azerbaijani scientists are one of the main platforms for
creating and spreading propaganda theses and myths around the Khojalu (Aghdam) events of
1992.
Authors ' task – detection of fraud in the description of the Khojalu (Aghdam) events in
school and the scientific literature. For this purpose, the following issues are considered:
 Distortion of the Khojalu events in the history books
 School textbooks as a manipulation tool
 State policy of falsifying the number of victims
 Discussion of events in Khojalu in the works of Azerbaijani authors
 Mechanisms for countering Azerbaijan's anti-Armenian propaganda
To conduct the research, we used both methods of monitoring and collecting facts, as
well as methods of processing and analyzing information.
As a result of the research, we came to the conclusion that Azerbaijani school textbooks
are one of the main tools of anti-Armenian policy.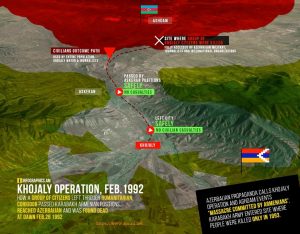 Hovik Avanesov, Anzhela Elibegova