in Russian – https://aga-tribunal.info/25-3-2021/
March 25 in Russia is the State Day of cultural workers and custodians of cultural heritage. On the eve of this day, on the eve of Holy Week (in the Armenian Apostolic Church), another public blasphemy was committed in one of the territories occupied by Azerbaijan – successive acts of desecration were committed against the Christian church with dancing and wild cries on its dome with a downed cross, and, in the end, was committed destruction to the foundation of this church. All these acts by a group of vandals in the form of soldiers and officers of the armed forces of Azerbaijan with machine guns in their hands were recorded on video, followed by thousands of applauses from vandals' compatriots in social networks.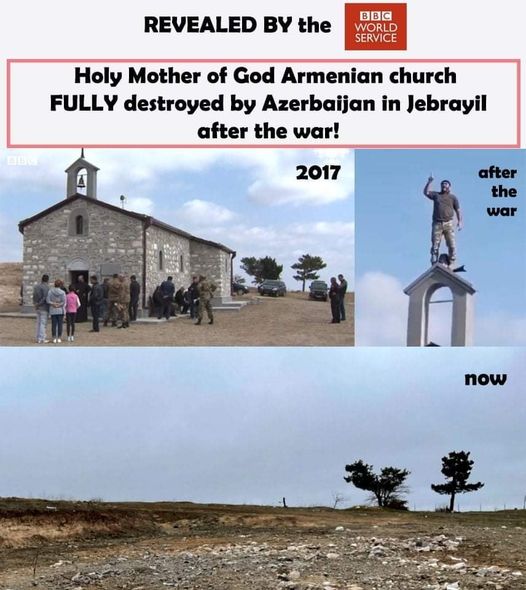 How many publications about this crime were there in Russia, in the Russian media, how many speeches were there by cultural figures? Zero. Simply – banal zero, as a reflection of the priority of the conjuncture and lies over spirituality and truth.
Ten days before this atrocity, Maria Zakharova, the Director of the Information and Press Department of the MFA of Russia, during her briefing on July 12, said about the previous facts of desecration of monuments by Azerbaijan (translation by AGA-Tribunal.info): "We hope that the Azerbaijani authorities will take all appropriate measures to rectify the situation". Such an attitude towards continuing recidivism is not only naive, but also is a form of complicity with it. Therefore, it is not surprising that no one in Baku will ever pay attention to such words. In Baku, such words are perceived as a green light for the continuation of crimes.
On the other hand, the BBC published the article, but there is no evaluation in it either, the narration is blurry, including the words "Both sides accuse the other of war crimes".
The web site of UNESCO, the web sites of many Christian churches do not say anything about the committed atrocity, they keep silence.
But the Armenian side is also not very active in its response. The reaction cannot be delegated only to the wounded Artsakh, whose MFA gave its assessment. By the Armenian side we mean the authorities of Armenia, specialized structures and organizations, communities of Diaspora. The level of their response can be assessed, at best, to a pale C grade. In one recent article, there was a harsher assessment of Azerbaijan's ongoing crimes.
The public organization "Khachmeruk" (Crossroads) once again calls on the authorities of Armenia (National Assembly) to give a concrete and clear political and legal assessment of these crimes, calling things by their proper names, namely, a cultural genocide (culture-cide). A full legal act is needed, not week, declarative and monosyllabic messages on Twitter or Facebook of few individuals. At the same time "Khachmeruk" calls on public organizations, experts, lawyers to consolidate efforts to expose and bring criminals to justice.